Read Public Tributes & Eulogies for Jack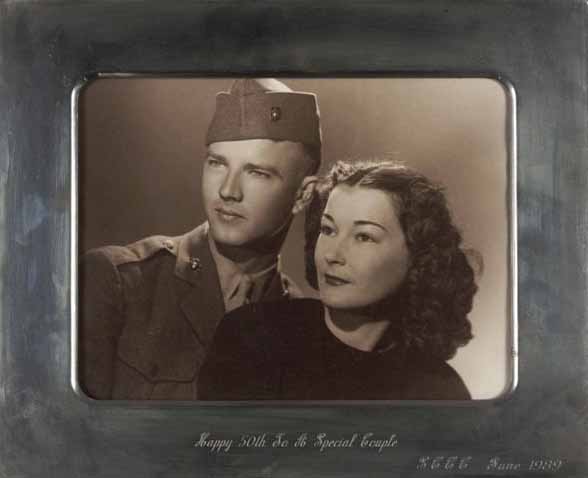 Framed Photo Presented To Jack & Denny By The Southern California Counseling Center At The Gala Celebrating The Occasion Of Their 50th Wedding Anniversary - Photo Taken Early In The Pacific Campaign Of World War II Before Jack Shipped Off To The Pacific As A U.S. Marine Combat Correspondent
Jack & Denise Smith's
50th Wedding Anniversary Celebration
Southern California Counseling Center Annual Gala
Saturday, October 12, 1991
Beverly Wilshire Hotel
Beverly Hills, CA
Remarks by Curtis B. Smith
When Nancy Steiny asked me to say something tonight I had reservations about doing it. I always thought speeches like this were either boring, embarrassing, or both. But, I decided to just say a few things that I have felt for a long time, but never put into words.
I feel very fortunate that our family is able to celebrate this anniversary tonight. Our parents successfully navigated the depression, World War II, several demanding careers, Los Angeles traffic, various medical emergencies and the high divorce rate in California to maintain a strong and supportive family which helped guide my brother and me through our childhood and our sometimes trying adult challenges and mistakes.
We have both benefited from their skill in maintaining a remarkable balance between being available to us with advice, guidance and help when we needed it and not interfering in our adult decision making. It must have been very difficult at times to silently watch us make our mistakes—some of which they helped us pay for.
Our parents gave us the values we cherish today—values such as respecting and helping others, maintaining high ethical standards, working hard, and opposing prejudice of any kind.
Some of you may be aware that our parents recently gave each other new wedding rings. My mother's original wedding ring was thrown, by one of them, into the back yard when they had been married only a short time. A search the next day didn't turn it up. Neither has worn a wedding ring since. I don't know if this means they will be taking their vows again, but if they do, they now have 3 best men, 2 matrons of honor, 1 maid of honor, 1 flower girl, and 2 ring bearers.
About the time I was in college, my father asked me to stop calling him and my mother "mama and daddy." He thought it sounded too juvenile. He preferred "mother and father." I tried that for over 20 years. I can't adjust to it—sounds too formal and pompous. From now on I am going to use "mom and dad." I'll make you a deal. If we all make it to your 75th anniversary party, I'll call you anything you want.
In the mean time, I love you mom and dad.